Project Events
ChatPal Annual Conference 2022
29-30th March 2022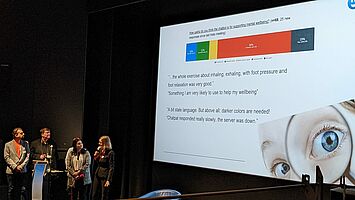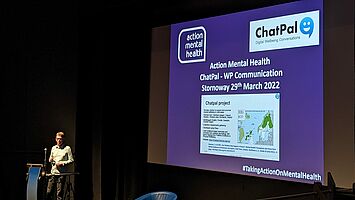 The ChatPal partners met up in Stornoway, Scotland for the ChatPal annual conference. The event spanned 2-days. Day 1 included work package updates from each of the partners and keynotes from local organisations/ projects including; Western Isles Association for Mental Health, Penumbra, mPower, Strata, and Sleepio. A workshop was held with the project team, to discuss the mental health challenges in Ireland, UK, Sweden, and Finland, and how ChatPal can potentially address these problems. For the second day, members of the public were invited to attend. Demo stations were set up so people could try ChatPal and ask questions about the project. Professor Raymond Bond then gave a talk on "The ChatPal chatbot - chatting with your phone to support a positive mental wellbeing". Following this, Alison Robertson, Clinical Psychologist for NHS Western Isles presented on "Digital CBT - a national and local approach". The event closed with a workshop for mental health care professionals, to explore their views on digital technologies. A local actress/ comedian from Northern Ireland Nuala McKeever attended the event to interview the partners on their experiences and learning from the ChatPal project. These videos are now available on the ChatPal Youtube/ social media. https://www.youtube.com/channel/UCeYBbGKE0CGx08L311YZgRw
ChatPal Annual Conference 2021
2-3rd September 2021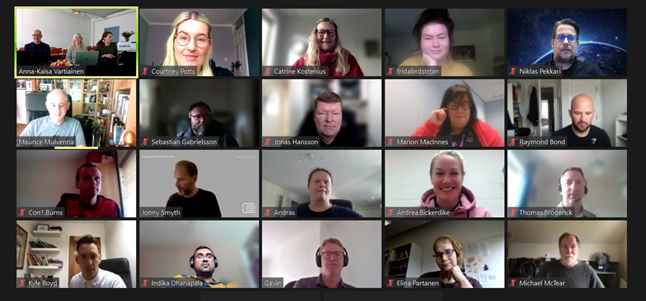 All partners attended this meetup online in August which was organised by the team in University of Eastern Finland. The conference included partner meetings to discuss work package updates, general discussion on project progress and next steps. Across both days of the conference, a number of keynotes took place online including:
"Brief review of AI ethics and cases from Finland", Juho Vaiste, M.Sc., AI Ethics specialist (https://future-ethics.utu.fi/personnel/vaiste/), University of Turku, Finland, Future Ethics
"Building for Large Scale Implementation" Chris Wright, National Advisor for Digital Mental Health, Scotland.
"My lived experiences from digital mental health services", Expert by Experience Oskari Ihalainen, Finland
Chatpal Annual Conference 2020
(12-14th August 2020)
All partners attended this meetup online in August which was organised by Swedish partners and Ulster University. The conference included a design thinking workshop, partner meetings, keynotes and culminated with a presentation and panel discussion open for the public in Swedish which had ~150 attendees. The keynotes were provided by Professor Marcus Liwicki on "Conversational AI for Health", John Torous MD - "Beyond Telehealth: Digital Psychiatry's Current Applications and Research" and Sebastian Gabrielsson "Using ICT to support recovery in mental health". In the design thinking workshop, members of the ChatPal consortium came together to put forward ideas for content for version 2 of the app based on the user needs identified in the workshops across all regions.
ChatPal project launch
Project launch event, Derry-Londonderry, Northern Ireland
To kick off the project, lead partner Ulster University (UU) held a two-day launch event which was attended by all partners in October 2019. On the first day of the event Dr Raymond Bond and Professor Maurice Mulvenna (UU) provided an overview of the Chatpal project, objectives, work plan and deliverables as well as the plan for project outputs and dissemination. David Babington, Action Mental Health (AMH) Chief Executive spoke on AMH Services, outlining current mental wellbeing community service offerings. Dr Edel Ennis (UU) gave a talk on ethics management and current protocol overview for survey, workshops, usability testing and the trials. Prof. Catrine Kostenius and Dr Sebastian Gabrielsson from Luleå University of Technology (LTU) spoke about Digital solutions to promote mental health in children and youth. On the second day, Prof. Lauri Kuosmanen from University of Eastern Finland (UEF) gave a talk titled "Mental wellbeing: Definitions, issues and challenges". Dr Alex Vakaloudis, Cork Institute of Technology provided examples of how the Chatpal Chatbot could look and how users could interact with it. Finally, Prof. Elaine Ramsey and David Hanna (UU) from the School of Business presented "Business models for a chatbot mental health service".
Other Events
ICTS4eHEALTH conference (6th September 2021)
Courtney Potts presented "Insights and Lessons Learned from Trialling a Mental Health Chatbot in the Wild" at the IEEE conference ICT Solutions for eHealth. The programme can be found here iscc2021.unipi.gr/program.php. 14 people were in attendance for this session.